Ayurveda Retreat Sicily
Scroll all down to clic for photos...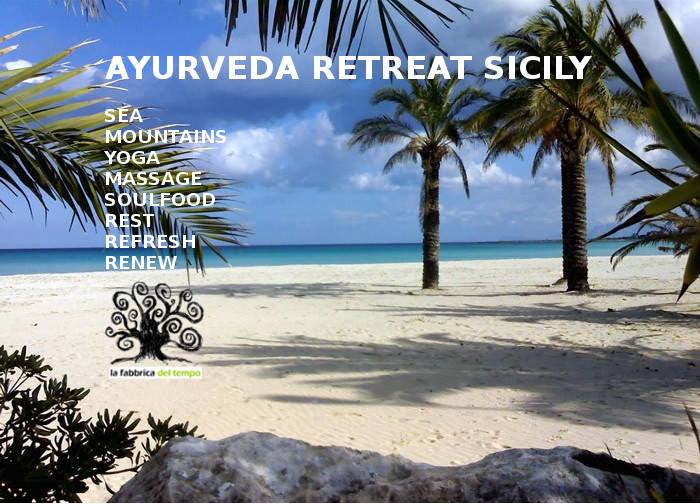 SOAK YOURSELF IN WELLBEING
A complete Ayurvedic Lifestyle experience in a paradise of biodiversity.


ONE WEEK to replenish yourself, tune on your nature, live at your pace.
NATURE. This wild, pure and quiet corner of the island, to rebirth in your own nature & reset in your core.
TIME to relax & renew. Hike the coastline, swim in salted crystal clear sea and relax at the warm pool.
The RHYTHM of daily Yoga and Massage sessions opens up your tissues and supports your experience.
AyurYOGA, for Prana to circulate harmoniously. MASSAGE, tailored on your needs.
The FOOD created as Ayurvedic Vegetarian Meals, is fundamental medicine & part of the magic healing.

TEACHINGS in cooking, self-massage and natural beauty.


°°°°°°°°°°°°°°°°°°°°°°°°°°°°°°°°°°°°°°°°°°°°°°


THE RETREAT

. takes place in the HEART of the Mediterranean: lush dry tropical climate, warm (swimming) temperatures, fresh air and starry nights.
A white-sand palmy beach is at your feet and several silent coves and Caribbean-like bays are in the Nature Reserve close-by. Plenty of awesome spots to enjoy where the sea meets the mountains...

. is very PRACTICAL. I love to give the opportunity to live Ayurveda on a daily level, which is the most important thing if you opt for lasting effects.
I offer an Ayurvedic daily practice (cleansings, yoga, self-massage, herbal understanding, food preparation, beauty care, etc.) that you can take as much as you want into your day, also for later. We can say you can easily "rehearse" here what you may want to implement later at home.

. is INTENSE. Yes! Because with a retreat I have the chance to go further and give that what I cannot reach to give with treatments or consultations at home. Where those stop, a retreat begins... Ayurveda has so much to offer and this is the setting that allows me to give you the most. Nevertheless, for a lighter approach, you don't need to follow everything what is offered, you can just go daily with what you wish...

. challenges you to balance activity and stillness in a PERSONAL BLEND of rest & ease for your own radiant health. In Ayurvedic eyes & knowledge, Health & Happiness is a personal formula to be tailored individually.

. is about EXPLORING RELATIONSHIPS (with yourself, your hunger, your organs, your sleep, your surrounding, your dreams, your needs, emotions, power, qualities, essence) and there is plenty of SPACE for that.

. WELCOMES YOU to a trip trough yourself, in splendid surroundings.

. is not only a rich and abundant week of wellbeing, but the GREAT START of an ayurvedic experience that you can carry on with you. When the week is finished, your transformation has just started, and the tools are with you.

. AYURVEDA is born in India and rests on Universal concepts.
°°°°°°°°°°°°°°°°°°°°°°°°°°°°°°°°°°°°°°°°°°°°°°°°°°
PRACTICAL INFORMATIONS
DATES: 9-16 June and 16-23 June
LOCATION: San Vito Lo Capo (TP) - Sicily - Italy
FLY: Trapani or Palermo
GROUP: about 12 people max.
°°°°°°°°°°°°°°°°°°°°°°°°°°°°°°°°°°°°°°°°°°°°°°°°°°
Send me an e-mail if you are interested and want to receive more details.